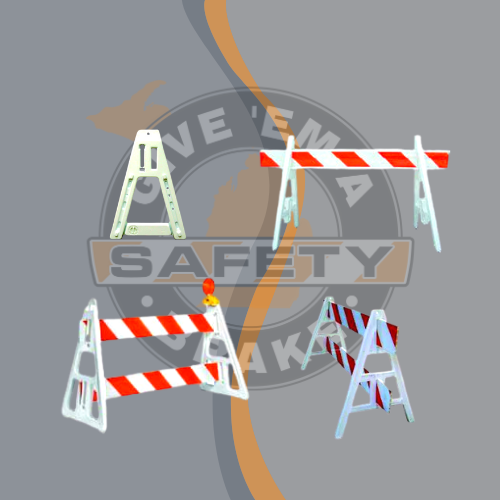 Our deluxe, sand-filled A-Cade is blow molded with a hollow base panel that holds 15 pounds of sand/ gravel for a secure ballast. Supports 4, 6, or 8 ft long reflective rails. LED flashers can be installed on the bolt holes at the top of each leg. Sawhorse barriers can be placed horizontally, creating an inexpensive, effective and highly visible pedestrian barricade for property or work zones. Contains molded in lugs for easy stacking and storage. 
The F&A-Frame has the durability and the versatility of an
A-Frame. As a type I or type II barricade, it accepts and securely holds virtually any centerboard on the market, including nominal lumber, plastic centerboards, even I-beam style boards. Made of durable polyethylene, the F&A-Frame is UV stabilized and designed to take abuse. The user-friendly ergonomic handle allows for easy setup and takedown, and its specially-molded stacking feature makes for minimum space in storage or during transit. The oversized sand fill hole allows for quick and easy internal ballasting and is sealed with a
flush mounted cap.