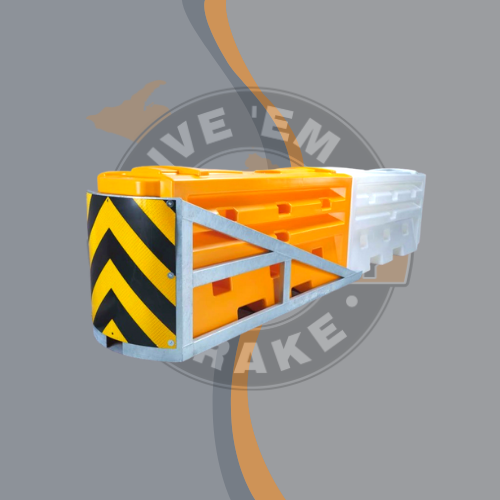 BARRIER WALL ATTENUATOR END TREATMENT
The Sentry Longitudinal Energy Dissipater (SLED) is a narrow, non-redirected gating crash cushion. SLED is designed to shield the end of all permanent and temporary portable barrier shapes including concrete, steel, and plastic. SLED' s unique design incorporates four internal steel cables which help envelop the impacting vehicle, reducing the possibility of secondary accidents. The SLED End Treatment does not require foundation anchor bolts to be attached to the road or bridge deck. The complete crash cushion can be installed quickly (on compacted dirt, gravel, decomposed granite, asphalt, or concrete) with as little as one pick up truck and two workers. 
Each SLED module is manufactured from a high-visibility, yellow polyethylene that is UV stabilized to minimize degradation. It is desigi:i-ed to deform and rupture on impact, absorbing the energy of the errant vehicle. SLED has the most versatile transition Tor shielding all permanent and temporary portable barriers. The combination of hinging and contouring allows the transition panels of the SLED End1reatment to be attached to various profile shapes with either converging or diverging angles, up to 10°.
FEATURES:
FHW A accepted for shielding the blunt end of concrete, steel and water fi1led barriers
Quick and easy set-up, with no foundation anchoring
Cost-effective end treatment for concrete, steel, or water filled barriers
Universal transition guickly and easily attaches to a variety of barrier shapes and sizes
SLED' s stout aesign virtually eliminates vaulting
Narrow footprint 1s ideal for work zones or roads with minimal shoulder spacing
Shortest length TL-3 water filled crash cushion means fewer incidental impacts
Containment imr,act SLED minimizes debris field
Visual "drive by' fill indicators quickly verify water modules are properly filled
FHW A accepted for use in uni- and bi-directional applications
Internal steel cables help envelop vehicle after an impact, creating a truly "limited gating' system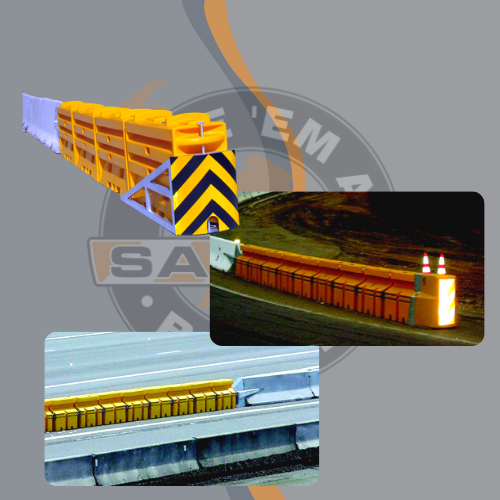 No gound anchoring, the largest selection of transitions, and modular technology allow the ABSORB 350 Anchorless Crash Cushion to be used in multiple speed conditions. The ABSORB 350 Anchorless Crash Cushion is ideal for contractors due to the ease of maintenance after an impact and quick and easy deployment. At 24″ wide, this impact attenuator is ideally suited for narrow areas in work zones where road and workspace is limited. The ABSORB 350 Anchorless Crash Cushion is easy to restore after an impact because the attenuator uses standardized modules. Using standardized modules also helps reduce inventory costs.
FEATURES:
Designed for easy transition to multiple portable concrete barrier widths and shapes
Can be deployed on almost any road surface
No ground anchoring required
Meets NCHRP 350 TL-1, TL-2, and TL-3 test criteria
Fast and easy deployment and retrieval
Nose and transition can be reused after most design impacts
Narrow footprint allows placement in front of hazards close to a travel lane
WHERE TO USE:
Work zones or other temporary application to shield portable concrete barrier on asphalt, concrete, gravel, or dirt when speed of deployment and removal is essential. Can also be used in permanent applications.
SYSTEM SPECIFICATIONS:
Classification – Non-Redirective (NR) Impact Attenuator
TL-3 length – 32′
Width – 24″
Height – 32″
Module weight empty – 110 lb
Test level – NCHRP 350 TL 1/2/3