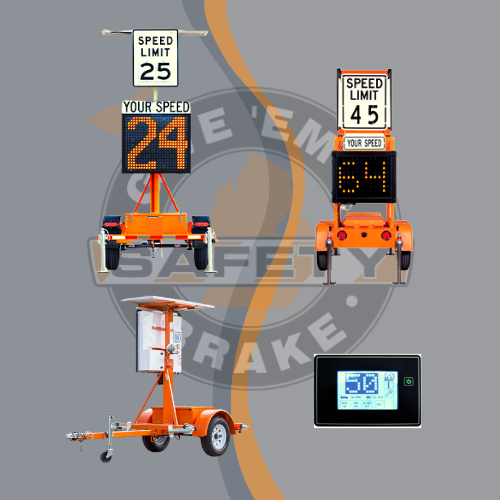 ENERGY-EFFICIENT DESIGN:
OTPI POWER LENS – Designed to maximize each LED output and utilize less energy
SOLAR PANELS – Provide maximum solar recharging during all four seasons
SOLAR REGULATOR – Protects the batteries from overcharging
DISPLAY:
Speed display panel: 25″ x 50″
Display: 2 digits (mph)
18″ in characters – visible up to 1000′
4 LEDs per pixel
Rotates 360° for perfect setting
Plug & play display modules for simplified maintenance
FEATURES:
Extra-large full-matrix display
Optical lenses and sun shades over 26″ LED characters
Selectable speed-limit setting
Clearly displays speed in MPH (one or two digits)
Software-controlled selection of speed units, MPH or
KM/H
24″x30″ regulatory speed-limit sign included, other sizes available
Regulatory sign has changeable speed-limit numbers
Approach-only K-band radar measures speeds from 5 to 150 MPH, at a distance of up to 1500′
Radar unit is CE compliant, FCC approved
Extended height increases visibility
Streamlined see-through design
Compact and easily portable, 5-rninute setup
Under 900 lbs, can be towed by most vehicles
Standard 2″ ball coupler tow-hitch
Battery powered & solar charging
Locking control box and battery compartment
Truly solar powered – engineered for continuous operaton
Brightest, most visible display – legible messages under all conditions
Sign panel failsafe system – automatically detects
and corrects errors and faults
CE marked – ensures complete electromagnetic compliance for superb reliability
Custom sign case and door frame extrusions -sturdy, secure, and weathertight
Modular construction – easy maintenance and repair
OPTIONS:
Battery charger
Data logger 
Modern
Jarn-Logic automation
Tongue wheel jack
Stealth technology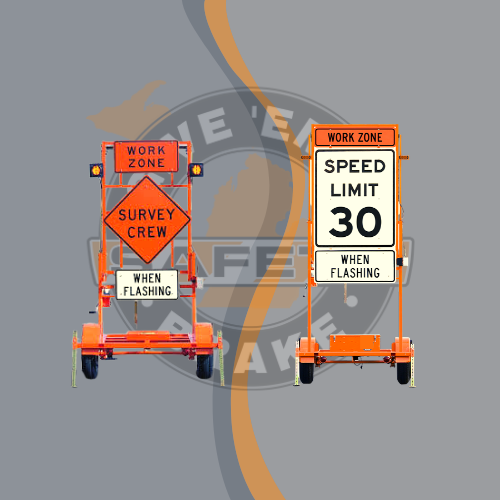 FUNCTIONAL:
Design allows for quick setup and takedown
Top, middle and bottom sign positions
Attach one, two or three signs
See-through trailer design improves worker safety in high-risk areas
LED lamps powered by batteries, charged with integrated solar panels
Control box contains beacon flash-pattern selector and solar panel regulator
Low-voltage disconnect protects batteries
Locking battery and control boxes prevent unauthorized access
ENVIRONMENT FRIENDLY:
Consumes 66 % less power
Smaller batteries have 80% less lead content
Sealed batteries will not leak or spill and require no maintenance
Decreased charging time saves energy and downtime
Reduced battery weight saves fuel
Manufacturing process emits near-zero VOCs
Nearly every component can be recycled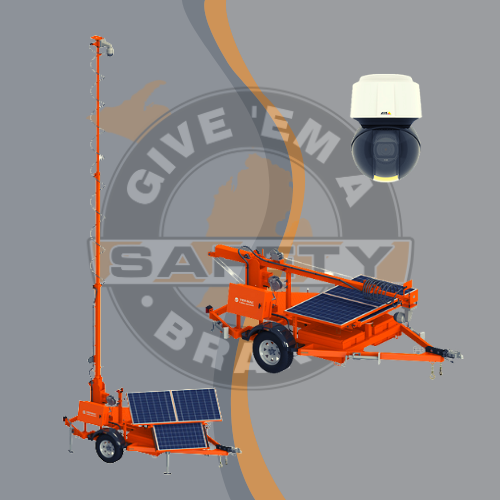 The CT-2430 is a portable camera trailer designed to provide height and stability for deployment of outdoor dynamic video surveillance. The CT-2430 camera trailer is perfect to remotely monitor work zones, construction sites, special events or any application where permanent cameras are not available or feasible.
FEATURES:
30′ Galvanized mast – rotates 360° and retracts for easy transport
• Tilt-and-Rotate solar panels – maximizes solar recharging and increases battery life
• 12 VDC/ solar power system – sustainable video surveillance anywhere
• Environmentally friendly – no generator, noise or pollution
• Wireless communication – remote monitoring from your PC, laptop, tablet or smartphone
• Multi-use – accepts most IP video surveillance cameras and non-intrusive traffic sensors
• Compact design – deploys in 10 minutes and easy to tow and store
• PTZ camera control – pan, tilt and zoom on your desired location
• Preset views – create several views for instant one-click redirecting camera
DIMENSIONS:
Overall length: 179″
• Overall width: 90″
• Operating height: 379″
• Traveling height: 58″
• Axle/ suspension: 3500 lbs
Weight (approx.): 2822 lbs. 
OPTIONS: 
Rugged PTZ dome camera (various models available)
Stream live video of work zone
Record video
Traffic sensors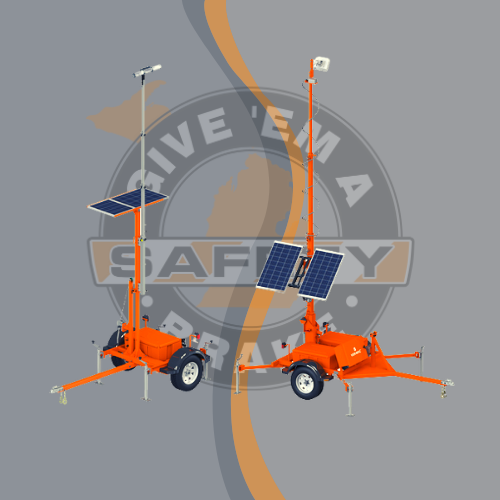 The CT-2320 is a portable sensor trailer designed to provide height and stability for collecting speed data .. The CT-2320 comes with a modem which gathers data remotely using special software. The CT-2320 is the perfect equipment for traffic studies or to integrate into your Smart Work Zone projects.
FEATURES:
20′ mast rotates 360° and retracts for easy transport
Tilt and rotate solar panels – maximizes solar recharging and increase battery life
Environmentally friendly – no generator, noise, or pollution
Compact design – deploys in 10 minutes and easy to tow and store
Wireless communication – remote monitoring from your PC, laptop, tablet, or smartphone
Accepts microwave or doppler sensor – ready to be installed
DIMENSIONS:
Overall length: 163″
Overall width: 99″
Operating height: 263″
Traveling height: 59″
Traveling width: 84″
Axle/ suspension: 3500 lbs
Weight (approx.): 1820 lbs