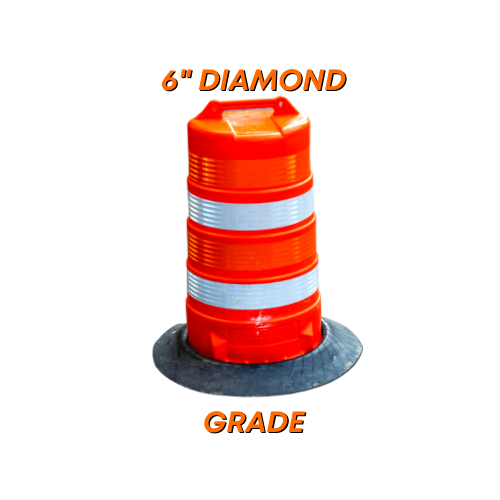 Drum is a minimum of 18″ wide throughout its 36″ height,
regardless of orientation
Tapered design allows stacking with or without barricade lights for easy handling and storage
Drum and base remain "snapped together" until impacted or separated for transportation and storage
Gentle curves throughout drum eliminate sharp edges or corners that crack and break when impacted
Built-in carrying and dragging handle
Two mounting holes for optional barricade lights
Bright orange color molded throughout
drum – UV inhibitors minimize fading
NTPEP tested – meets or exceeds MUTCD specifications
Retaining lip and flange for added strength during impact
"D" shaped design minimizes rolling after impact and
separation from base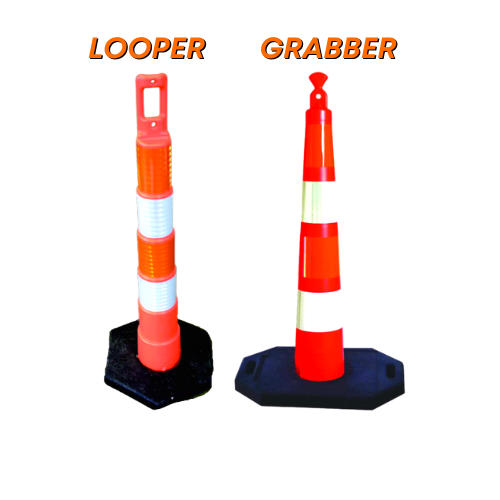 The stem of the cone is flexible, yet durable fluorescent low ­density polyethylene, with UV inhibitors to minimize fading. The recessed areas on the stem protect the reflective bands, minimizing rips and scratches. The extra large flange at the bottom of the stem allows the rubber base to hold it firmly in place.
Measures 42″ H

Bright orange color molded throughout

Stackable for storage and transport

Available with various size and types of reflective sheeting

Bases will not crush when run over

Slim design is perfect for narrow highways and street projects where space is an issue

Very durable, designed to rebound after impact

Unique handle is easy to grab even with flashing light or sign attached

Available with up to five stripes of sheeting

Molded-in holes for mounting lights and signs
Recycled rubber bases in three sizes – 10, 16, and 30 lbs
NCHRP – 350 accepted
Meets Federal MUTCD standards 

Parades and crowd control

Narrow work areas

Water/flood control

Lane closure

Tree trimming

Channelize or delineate traffic

Barricade construction work zones

Vehicular or pedestrian traffic control

Parking lot traffic control, striping or resurfacing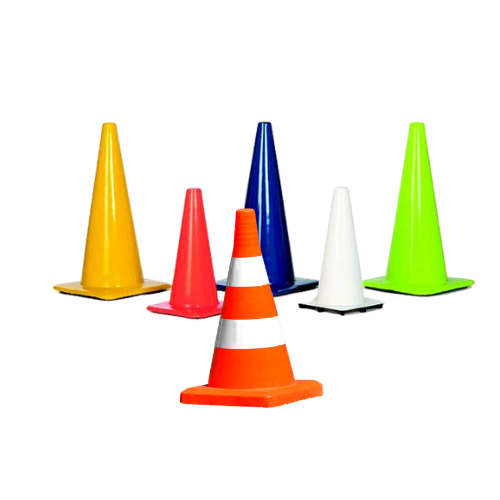 All vinyl construction assures durability and flexibility in any weather conditions
Long-lasting brilliant fluorescent color, available in
safety-orange and lime green, provide high visibility protection
Several models available in other colors. yellow, orange, blue, white, and lime green
Ultraviolet stabilized color provides maximum resistance to fading
High density base creates low center of gravity for maximum stability
Choose from 7 sizes – 2″, 5″, 6″, 12″, 18″, 28″, or 36″ – available in various weights and styles to meet specific needs
Engineered to meet MUTCD specifications
Options such as stencilling or reflective collars are available
Available with 3M™ Flexible Cone Sheeting Series 3340