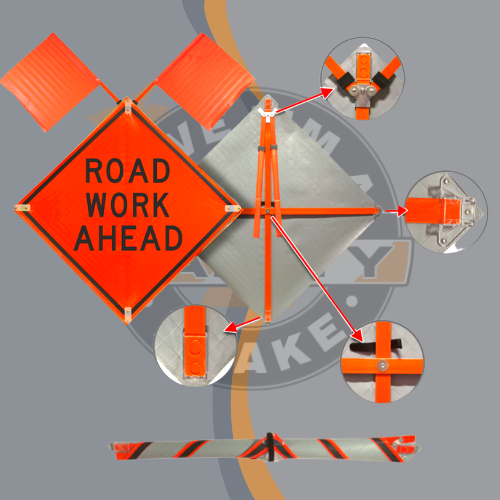 Available in a variety of materials and sizes, roll-up signs offer full size signage in a lightweight and easy to store design.
All roll-up signs meet MUTCD requirements

Many standard legends and materials available, custom signs are also available on request

Roll-up signs are NCHRP-350 compliant when used with one of our NCHRP-350 compliant stands

Fiberglass ribs, or cross bracing, feature a protective veil to prevent blooming and painful splinters

The rib set is fastened at the center with a¼" steel rivet and spring washer, providing constant tension. It will not loosen or tighten with use like nut and bolt assemblies

Rectangular and delta style comer pockets are made of tough polycarbonate plastic for durability

Delta pockets on the horizontal comers provide three rivet points for durability and a shallower pocket depth for easy deployment

Delta pockets have a narrow width and feature a channel for the strap which provide a smaller, tighter diameter for easier storage

Back-to-back hook and loop strap for storage

Optional folding flag system permanently attaches 2 warning flags and flag holders for wood dowel flags

Overlays for changeable message signs are also available in all sign materials and colors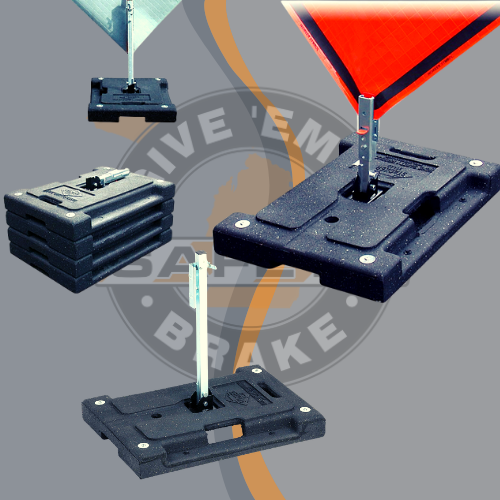 SIGN STANDS-STACKER PORTABLE STAND
Meets MUTCD specifications, NCHRP-350 compliant.
Stacker sign stands can display either 36″ or 48″ roll-up signs. Made of rubber from recycled tires, these stands feature a small footprint and compact storage.
Low-profile rubber base design is ideal for limited storage or display areas
Two molded handles allow for easy transport
Features a pocket style sign holder for standard roll-up signs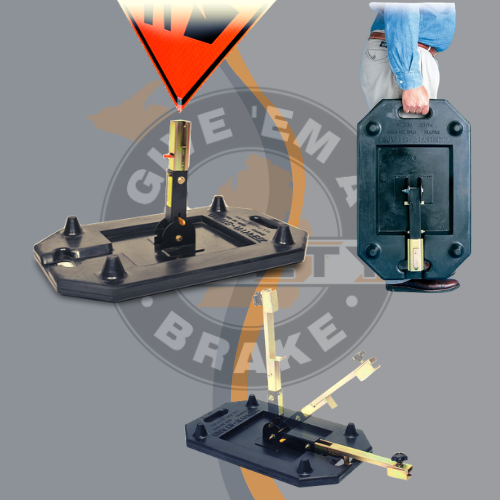 SIGN STANDS-ZEPHYR PORTABLE STAND
Meets MUTCD specifications, NCHRP-350 compliant.
Zephyr portable sign stand is constructed of a steel plate molded into a recycled rubber base. Two molded-in carrying handles allow for easy movement and stand placement. It is easy to use simply release the level and raise the mast to lock it into the upright position. No further adjustments are necessary. The low-profile sign stand takes up very little storage space in the truck. Stacking lugs are molded into the base for easy transport and storage. The vertical mast folds down and locks in place to minimize damage during loading, transporting, and unloading.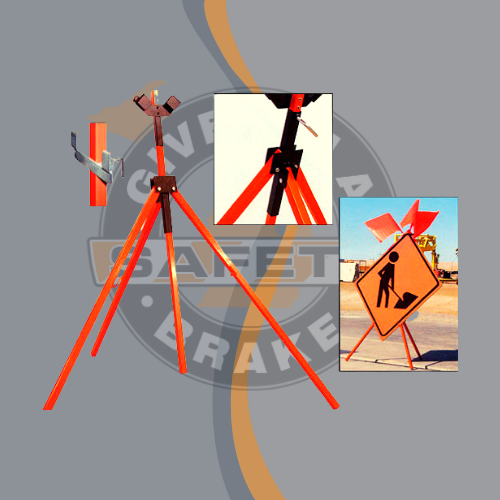 Tripod is an all-purpose, three-legged heavy-duty sign stand.
Designed to hold 36″ and 48″ rigid signs
Displays roll-up signs with the addition of optional #RUBlOO roll-up sign adapter
Telescoping mast
Flag holder for 3 standard flags
Powder-coated, rugged square tubular steel construction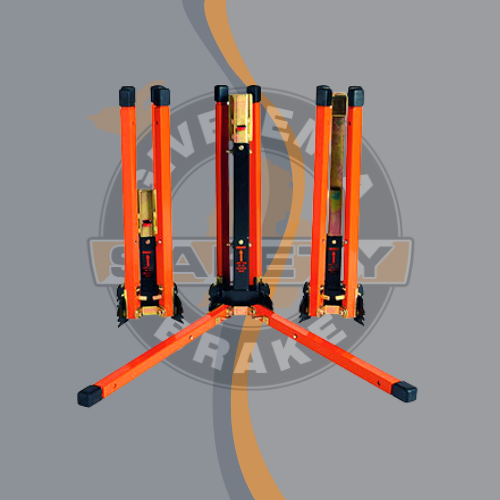 Step-N-Drop is designed with unique legs which enable quick setup without having to bend over or stoop down. Simply place your foot on the release lever, step down and two legs will drop into position. Repeat the process for the remaining two legs and the sign is road-ready.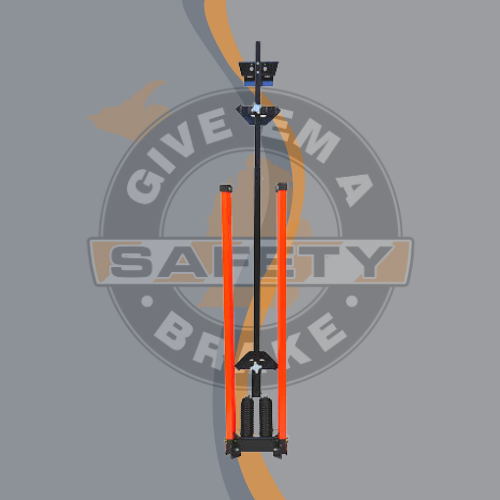 SIGN STANDS-LITTLE BUSTER
Designed to hold 30″ or 36″ signs made of aluminum, wood, and plastic. Can also hold roll-up signs. With its all-steel construction and powder-coated paint, this stand easily resists corrosion and rusting. The telescoping mast, with adjustable, rigid, or roll-up sign brackets, allows for variable sign height adjustments. The dual spring mounted base adds stability during high winds and passing traffic. The Step-N-Drop legs enable you to set up the sign stand in seconds without having to bend over or stoop down. With its two-position leg adjustment, all four legs of the stand can be individually adjusted for uneven terrain. Optional flag holder will accept standard ¾" diameter wood or plastic dowel flags.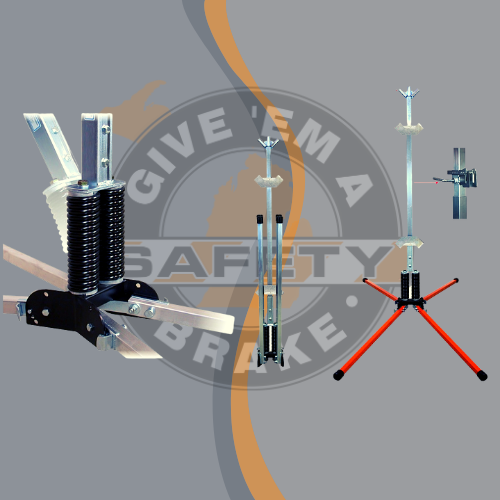 Feature steel and aluminum construction for long-lasting, dependable service. Dual heavy-duty steel coil springs provide stability in gusty wind conditions.
Features a two stage telescopic aluminum mast which allows roll-up and/or rigid signs to be displayed 14″ to 84″
(measured from the ground to the bottom of the sign) off the ground
Factory installed triple flag holder for¾" round flag staffs
Foot operated leg release quickly locks legs in one of three positions to allow for storage or deployment on uneven terrain
Aluminum leg models feature .100″ wall aircraft quality tubing, 16 gauge steel leg models have an orange powder coat finish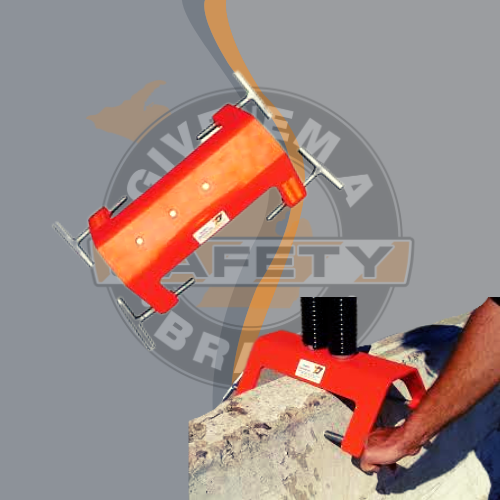 MEDIAN BARRIER BRACKET-BARRIER BUSTER
The Barrier Buster is made of durable powder-coated steel with heavy-duty T-pins and hardened steel points. The Barrier Buster is designed for quick and easy setup and removal. It is ideal for short-term applications and highway conditions where shoulder space is limited. The Barrier Buster is available with Little Buster (steel) or Big Buster (aluminum) mast, springs, and sign mounting brackets, or as "clamp
only."
The Barrier Buster safely displays 48″ x 48″ or smaller rigid or roll-up signs and will accept most other manufacturers' dual vertical coil spring stand components.
12″ Clamp – 5 ½" to 12″ wide Jersey-style concrete barrier
15″ Clamp – 8 ½" to 15″ wide Jersey-style concrete barrier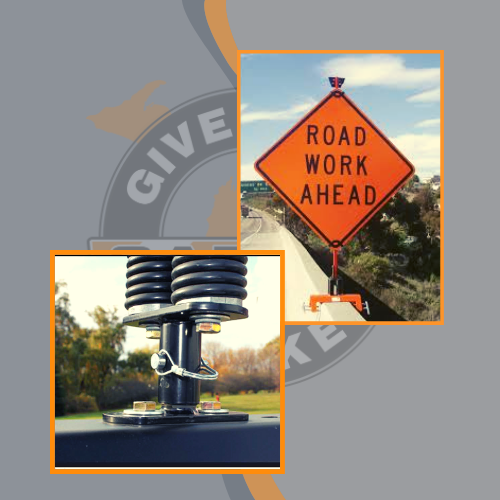 MEDIAN BARRIER BRACKET-ROTATOR
Allows the sign to be rotated in increments of 45°
The attached hitch pin locks sign in place at the desired angle
Can be rotated to 90″ so sign legend is not visible
Increases safety by reducing the time workers are in the roadway
Attaches quickly and easily to most median barriers currently on the market
Does not require a heavy stand or ballast
Steel construction with corrosion protective finish
Cost-effective