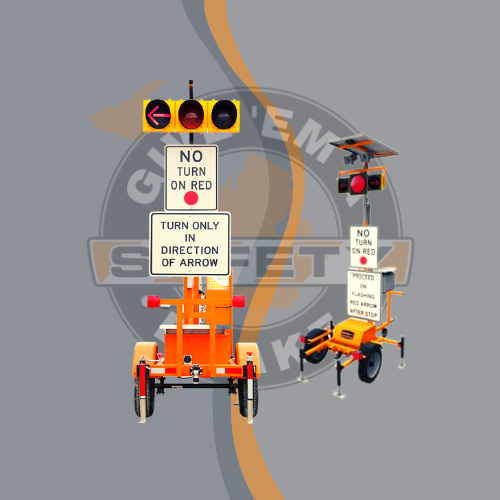 DRIVEWAY ASSISTANCE DEVICE SIGNAL
CONTACT US FOR A DEMONSTRATION!
The Driveway Assistance Device (DAD) has been designed to control driveways located within a one-lane temporary work zone. The system increases safety for both the motorist and the worker, while maximizing traffic flow through the work zone.
The DAD is a self-contained cart with a small footprint, which allows for easy maneuverability during deployment. The card features a battery bank with on-board 110-volt charger and an optional outrigger and solar charging system. Each signal is equipped with one 12″ solid red indication and two flashing red arrows, which alert the motorist that one way access is permitted in the direction of the flashing arrow.
HOW IT WORKS:
The Driveway Assistance Device will display a flashing red arrow in the direction of the traffic traveling with the work zone. The motorist may proceed in the direction of the flashing arrow, yielding to the traffic traveling within the work zone. A solid red indication is displayed when it is not safe for the motorist to enter the work zone.
Each DAD is linked to a portable traffic signal system controlling the work zone traffic. Communication between the system and the DAD is accomplished wirelessly.
FEATURES:
Information signs are easy to affix to the signal mast
Engineered with recognizable signals to boost adherence
Unlimited systems can be deployed in series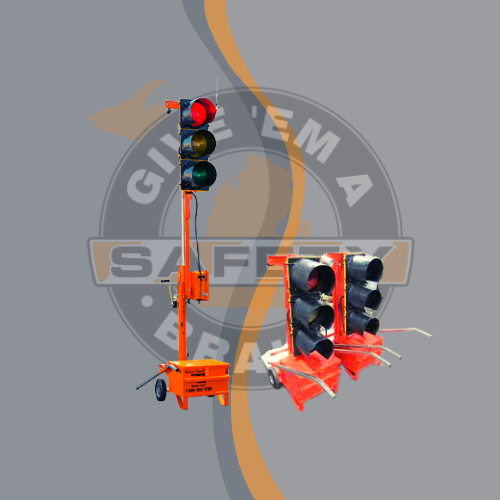 CONTACT US FOR A DEMONSTRATION!
A TRUE ALTERNATIVE TO FLAGGING:
The SQ2 Portable Traffic Signal System has been designed for fast, efficient deployment without sacrificing quality or versatility. The software-based operating system conforms to NEMA performance standards and features an integrated conflict monitor, programming storage, and is actuation ready. Failsafe programming is quick and easy with options for fixed time, actuated, or fully manual modes. The SQ2 system is ideal for daily or short term traffic control applications, as it provides increased work zone safety while maximizing traffic flow.
SYSTEM FEATURES:
Full matrix operating system
Bulletproof 900 MHZ radio communication option
True green time extensions
Manual, fixed time, and traffic actuated operation mode options
Wireless remote operation mode option
Work zone indication light to provide visual cues
Fast, efficient deployment and relocation
Fully MUTCD and NCHRP 350 compliant
Integrated conflict monitoring
Meet NEMA TS-5 specification for Type TR2 PTS
SPECIFICATIONS:
4 signal carts per system
1 signal head per cart
Lamp type: 12″ diameter LED
Power source: 12V batteries (2)
Height: operating position – 96″
Cart footprint: 31″ x 25.5″
Cart weight: 420 lbs
AVAILABLE OPTIONS:
Solar charging & outrigger package
Traffic actuators via motion sensors
Pedestrian crosswalk signals
Advanced remote monitoring system
Back plates
Flagger/pilot car module
Transport trailer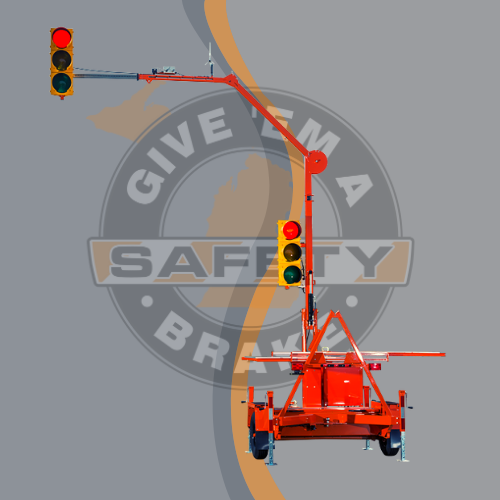 CONTACT US FOR A DEMONSTRATION!
The SQ3 Portable Traffic Signal System combines fast, efficient setup with highly reliable performance. The multitude of modular add-on components makes the SQ3TS the most versatile portable traffic signal system available today. The SQ3TS is the smart choice for a wide variety of short and long term traffic control applications. From a simple one-lane bridge repair project to complete intersection control, the SQ3TS has the attributes to provide safe, efficient traffic control. The SQ3TS Portable Traffic Signal meets and exceeds NEMA TS-5 specifications for Type TRl PTS.
SPECIFICATIONS: 
Signal lamp – 12″ diameter LED
Signal arm extension – 68″ to 109″
Solar charge – 440W minimum
Power source – 12V batteries (16)
Tow height – 89″
Trailer width – 85″
Trailer weight – 3000 lb
SYSTEM FEATURES:
Bulletproof 900 MHZ radio communication
True green time extensions
Conflict monitoring
Fast, efficient setup
Tandem tow signal trailers
Highly visible at 123″
Adjustable overhead mast arm
180″ rotating signal heads
Fixed time, traffic-actuated and manual operations options
Controls up to seven traffic phases with eight signals
Battery powered with solar & 110 volt charging
AVAILABLE OPTIONS: 
Remote management system
Interface module
Pre-emption system
Back plates
Traffic actuators
Flagger/Pilot Car Module