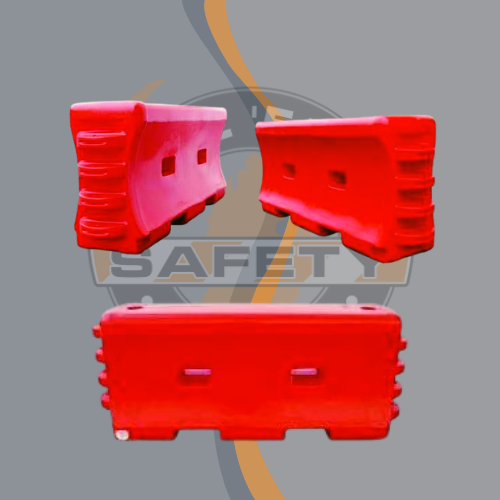 The Water-Wall Barrier is a durable side protective temporary crash barrier system that can be used in many situations; from protecting the public surrounding a construction site to work zone safety on roads and highways. The Water-Wall can quickly and easily connect directly to the SLED end treatment which negates the need to shield or flare the end of the barrier. The Water-Wall Barrier is an economic and easy-to-install crash barrier system.

For added privacy and security, the Water-Wall can be equipped with plastic or chain-link fence (with extended connection pins).
Features:
Durable polyethylene plastic minimizes cracking and breaking
Molded through holes eliminate bowing when filled with water
Double wall knuckle design minimizes breakage at hinge points
Hinge design allows for a 30° pivot between sections
Large 8″ fill hole speeds filling process, includes twist-lock plastic cap
New tamper-resistant, corner offset drain plug with coarse buttress thread – screws in or out in only 2 ½ turns
Includes one steel connection pin that allows sections to be locked together
Forklift/pallet jack slots at bottom allow for easy movement and transport
Standard colors are orange or white – additional colors available upon request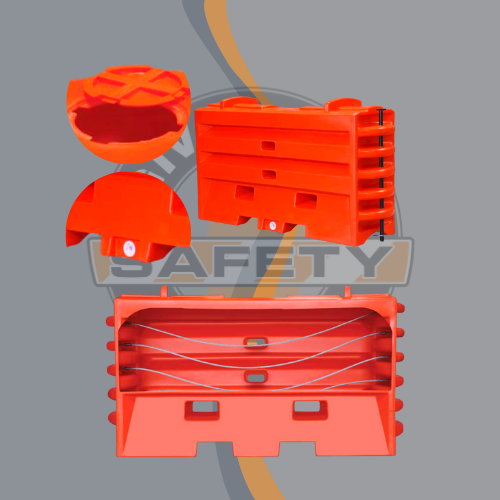 SENTRY WATER-CABLE BARRIER
The Sentry Water-Cable Barrier is an NCHRP 350 TL-3 certified work zone crash barrier that can be used as an alternative to cumbersome concrete barriers in a construction work zone.
Features:
The Sentry Water-Cable Barrier Wall has been tested and accepted for all TL-2 & TL-3 light weight 1,807 lb and heavy 4,409 lb vehicle impacts at 45 mph and 62.5 mph
Sentry Water-Cable Barrier weighs 160 lbs empty and
2,000 lbs completely full with 220 gallons of water
Sentry is 72″ L x 43″ H x 22″ W
Four internally-molded, corrosion­ resistant steel cables prevent the impacting vehicle from breaching the Sentry Water-Cable Barrier
The integrally molded steel cable and bushings allow for the creation of a free standing, continuous longitudinal water­-cable barrier
Stacking lugs on the top and bottom of the water-cable barrier make storage and transport a breeze
Forklift through-holes and pallet jack slots make movement and placement quick and easy
Interlocking knuckle design allows for positive connection, using a galvanized steel T-pin, between water-cable barriers while maintaining up to a 15° rotation between sections
8″ diameter fill hole allows for quick filling
Tamper-resistant drain plug with course buttress thread screws in or out in only 1.5 turns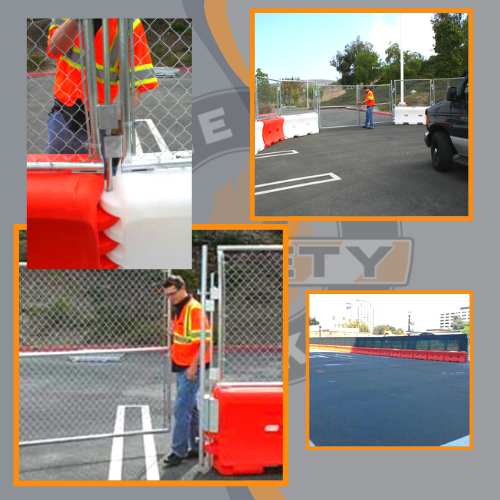 The water-wall fence easily retrofits to the water-wall to create an imposing and secure barrier for unwanted entries. The water-wall fence is made from 11 gauge galvanized steel mesh providing excellent security and visibility. Fence sections interlink with water-wall to provide better overall stability and allow for easy changes in ground height. The water-wall and water-wall fence can rotate up to 30° for easy layout and encircling of job sites.