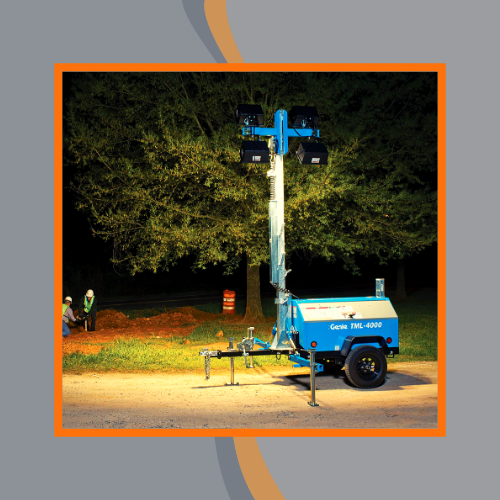 CONTACT US FOR A DEMONSTRATION!
FEATURES:
360° non-continuous tower rotation
30° leveling capability
Trailer light package
60 mph tow speed rating
"Tool-less" Quick-Aim™ horizontal and vertical adjustments of each light fixture
Patent pending tilt actuating lamp adjustment
Four 1000 W metal halide lamps with individual circuit breaker switch for each lamp
Horizontally mounted lamp assembly for more even light distribution
Standard convenience 120V AC GFCI protected receptacle
(60 Hz only)
No convenience receptacle package (International only)
2″ ball hitch
POWER:
• Lombardini water-cooled diesel engine 14.3 hp
• 60 Hz generator package
• 60 to 100 hour run time between fueling
• Keyless ignition and hour meter
OPTIONS AND ACCESSORIES:
Configurable convenience two gang junction box
Enhanced convenience GFCI protected receptacle with two 120V AC and one 240V AC (60 Hz only)
Combination 2″ ball / 3″ pintle hitch
Environmental tray power
Perkins water-cooled diesel engine 14.5 hp
50 Hz generator package (Perkins engine only)
Fuel/water separators and pre-filters
Cold start packages
Heavy-duty battery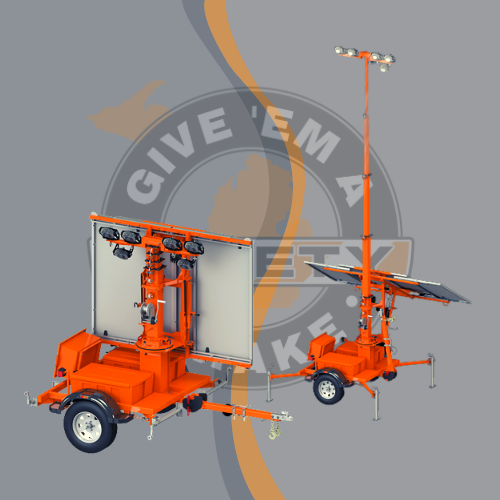 CONTACT US FOR A DEMONSTRATION!
Nightbrite technology – innovative proprietary
LED fixture design provides 40% increased brightness
using the same power consumption, compared to other
solar light tower systems
Clear and Bright LED lamps – long-lasting and durable
LED lamps provide targeted lighting with minimal light pollution and reduced glare
Compact design – easy to move around and set up
Power platform – robust power platform combined with energy-efficient Nightbrite technology provides
year-round autonomy in most applications with no recharging required
Low cost of ownership – eliminates fuel, fuel labor, engine maintenance and sodium light replacement costs, and saves thousands of dollars per year
26′ telescopic mast with solar tilt – galvanized adjustable and rotatable mast design combined with solar tilt provides quick and easy setup and installation
Environmentally friendly – no fuel emissions or engine noise to harm the environment
GENERAL SPECIFICATIONS: 
LED lamps: 6 adjustable fixtures
Luminosity: up to 6300 lumens total
Batteries: 940 A/h wired in a 24-volt system
Battery charger: 25 amp
Solar panels: 900 watts total and 320° rotation
Mast: 26′ galvanized mast
4 outriggers for trailer stabilization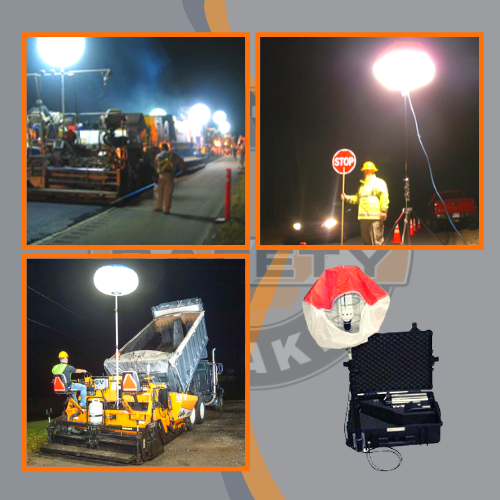 Among their many applications, nighttime construction is one area in which balloon lights really shine.
Glare-free lighting increases the personal safety of nighttime road work areas and drivers
Emit a high-wattage, 360° and shadow-free light
Lightweight and mobile, the units take up very little ground space
The self-inflating balloons are easy to set up and are immediately operational
Resistant to most inclement weather
Fast & easy deployment and retrieval
SMALL AND MIGHTY:
This balloon light perfect for repairs, maintenance, and
first-responders working at night or whenever you need quality light to get the job done.
The 750W balloon light is a portable powerhouse. The 250W halogen lamps are perfect for smaller work areas and are great to keep in a vehicle for roadside assistance, repairs, and medical emergencies.
FEATURES:
360° glare-free coverage
Built-in fan for quick self-inflation
Internal reflector increases output by 30%
Built-in lamp stabilizer
Quick setup in any situation
Lightweight and compact design for mobility and ease of use
Built-in thermo switch for safe operation
Available in AC and DC configurations
Includes tube stand (telescopic stand optional)